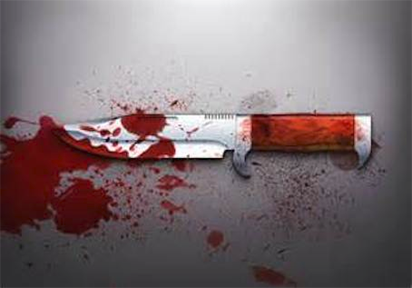 A 27-year-old suspected ritualist, Sodiq Rasheed, caught with three human skulls, was among 36 suspects paraded yesterday by Oyo State Police Command.
Rasheed was arrested by the anti-crime patrol team of the Iyaganku Area Command along Ijebu-Ode/Idi Ayunre Road.File|: Knife
According to Oyo State Commissioner of Police, Mr. Abiodun Odude, he exhumed the skulls from a cemetery in Omi-Adio area of the State.
He told Vanguard: "I am a tree cutter. I went to work for Alfa Hadi. He did not like my financial, so he said he was going make me rich. Alfa Hadi requested me to bring the parts for the sole purpose of money-making ritual.
"I went to the cemetery to dig up the skulls. I was on my way to deliver them, when I was arrested by the Police."
Parading the suspects at the state Police Command Headquarters, Eleyele, Ibadan, Odude said the command, in the last three weeks, had recorded a lot of success in its war against crime.
Other suspects arrested were allegedly involved in various offences ranging from money ritual, robbery, fraudulent activities, diversion of goods to cross-border armed bandits, among others.
Also paraded was a notorious gang of fraudsters, who allegedly specialised in obtaining goods from unsuspecting victim using fake bank SMS alert.
The gang members, numbering about six, according to the Police, fraudulently obtained 33,000 litres of diesel from one Alhaji Yusuf Owodunmi in Apapa, Lagos.
"The gang, through the use of fake SMS bank alerts, defrauded Alhaji Owodunni of N7,194,000. The suspects made frantic efforts to dispose the goods in Ibadan before luck ran out of them and were subsequently arrested by the command," the Police boss added.
Items recovered from the suspects include one AK-47 military rifle, three TV sets and one big generator.
Others are a truck of 33,000 litres of diesel, a diverted truckload of noodles, five vehicles, mobile phones, one pump action gun with five cartridges, watches and a power generator.